BJT Equipment was recently awarded the Emerging & Micro Business Award in May of 2022 by Gold Coast Business Excellence Awards. The Gold Coast Business Excellence Awards is celebrating its 27th year and have grown to be recognised as the region's most comprehensive and prestigious business awards.
The Awards no doubt contribute to the self-image and identity of Gold Coast businesses further fostering pride in the local Gold Coast business community. The award draws the spotlight on the growing importance of the Gold Coast as a business hub and recognises leading businesses.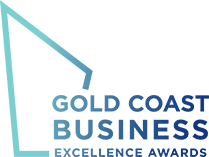 Gold Coast Business Excellence awards look through a vast selection criteria including the below:
Overview of the Company and its history, this includes details of the directors and management team, the length of time in business, the company structure which also includes its customers and target market along with the number of its employees.
The services being offered and performed by the business and satisfactory outcome and performance of services provided.
Marketing of the business, how it represents itself and its services.
Management practices include information on staff training, development, employee incentives and what opportunity for career advancement and the upskilling pathway is available and encouraged.
Innovation, including research and development relative to the core services of the business. Innovation is a multi-stage process undertaken by a business to transform ideas into newly offered and or improved products, processes, and services. All of these can advance the business's performance to compete and differentiate itself from its competitors within the relevant market sector. Innovation is not exclusively just for new and improved plant and equipment; it is also directly relatable to innovative changes across new and improved management practices. BJT Equipment successfully applied for, met, and implemented the selective criteria of the full ISO Accreditation into the business in mid-2022.
Environmental Practices such as focused attention to ensure the business maximises positive outcomes holistically across numerous topics such as waste management, carbon reduction, recycling, and green initiatives together with water conservation.
Citizenship relates to how a business supports and interacts with the local community, employing local employees and sourcing its supplies through other local businesses
Significant Achievements which measure exponential growth both in terms of revenue and turnover while also measuring staff expansion.
Training and Employment, which investigates how the business can demonstrate growth through staff education, training, retraining and a developed career advancement pathway supported by the business. To improve industry sector employee engagement and retention of a skilled workforce locally on the Gold Coast, paramount to the longevity of the Gold Coast region.
Future focussed business development plan, detailing the business's overarching plan for the following years including business and services expansion, investment into new local premises, the technologies, products, and future services of the business.